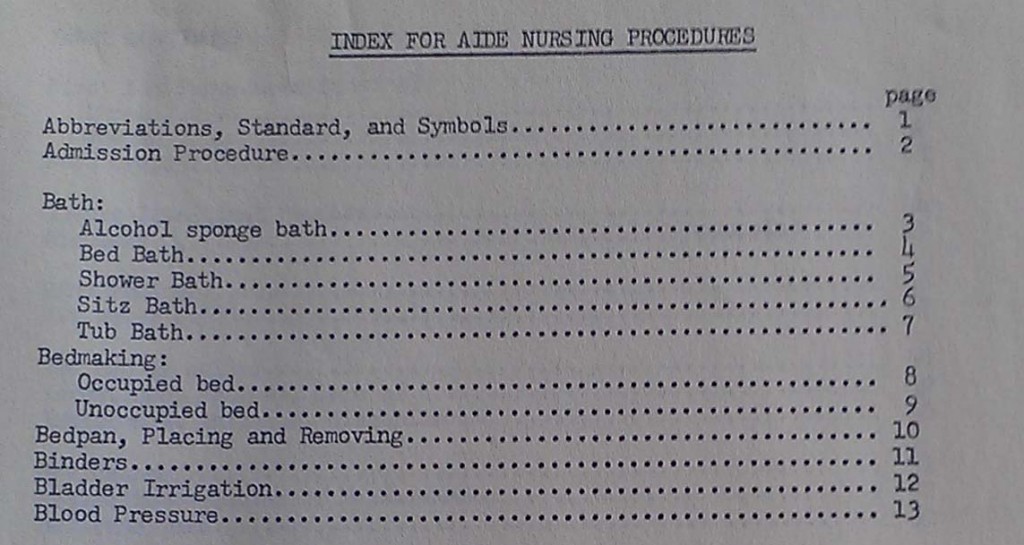 The following is a transcript of the "Admissions Procedures" as found in the Aide Nursing Procedures Handbook updated September, 1969.
Admission Procedure
Purpose:
To acquire needed information and record it correctly; to make the patient as comfortable as possible.
General Instructions:
If a patient comes to the unit desiring a voluntary admission, refer him to the receptionist.
If a new patient comes to the unit after 4:30 p.m. and is too ill to wait for an interview appointment, send him to the Communications Center.  The O.D. will interview and assign him to a unit.
If a patient returns to the unit from trial visit after 4:30 p.m., call the nurse of O.D.
Procedure:
Complete the face sheet.  See p. 32.  If on day shift, the receptionist does this.  After 5:00 p.m., the aide should make a handwritten copy and leave it on the receptionist's desk for typing the next day.
Have the patient sign the 'Release of Information' form.  (We must have this before sending information to the community health department, private physician, etc.).
Have the patient sign the 'Voluntary Commitment' form, if applicable.
Observe the patient for cleanliness.  Assist with bath and shampoo if indicated.
Complete and sign the 'Scar Sheet'

in ink

.
Do admission charting on nursing notes.  Note time the patient arrived on the ward and observations regarding his appearance, behavior and conversation.
Fill out the orange 'Admission' slip and prepare clothing for marking.
If the patient is admitted during waking hours, show him the ward area — restrooms, dining facilities, smoking areas, etc.  Introduce him to several other patients, unless behavior contraindicates.  Show him his sleeping area as soon as possible.
Assemble a chart. See p. 19 for order.  Write OSH number and patient's name on each page.
For all patients, except those returning from trial visit within sixty days:        Notify assigned physician of admission, so physical examination can be completed.Notify head nurse so tuberculin skin test can be completed within the first 24 hours.

Complete the following forms with last name, first name and birthdates: