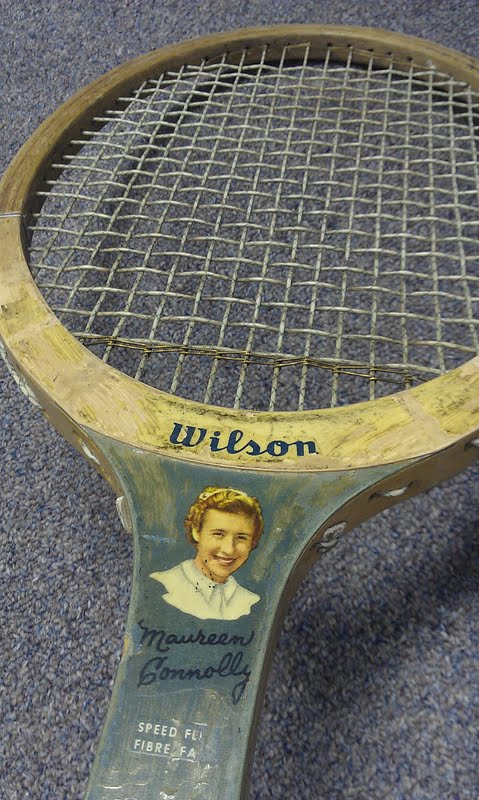 With Wimbledon wrapping up, we thought we would highlight this very interesting piece of tennis history found in the recreational therapy supplies at the Oregon State Hospital.  The most striking feature of this wooden tennis racket (2012.001.006), is the color portrait of a young woman named Maureen Connolly, at one time one of the most accomplished tennis players in the world.
Before the Williams Sisters, Graff, Navratilova and even Billie Jean King, Maureen "Little Mo" Connolly became the first woman ever to win a Grand Slam — winning all four Grand Slam events in a calendar year — which she did in 1953.  Did we mention she was just a teenager at the time?
Her accomplishments are incredible considering the length of her career.  A horse riding accident, led to her retirement from tennis at the tender age of 19, just two weeks after she won her third consecutive Wimbledon title.
Maureen Connolly married Norman Brinker in 1955, which helps us date the racket to earlier than that year.  Tragically, she passed away in 1969, at the age of 34, after a three-year battle with cancer.
The Maureen Connolly Brinker Tennis Foundation celebrates her life by supporting youth tennis programs throughout the world.  You can read more about the foundation and the story of Little Mo on their website.