Jan
18
Fri
When We Were Young: Childhood Around the Valley

@ Willamette Heritage Center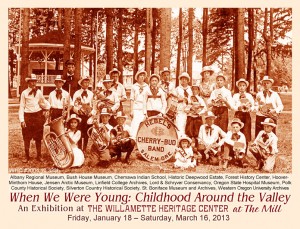 When We Were Young: Childhood Around the Valley
3rd Annual Heritage Exhibition at the Willamette Heritage Center

Where: Exhibit will be located at the Willamette Heritage Center, 1313 Mill Street SE, Salem, OR 97301
When: Friday, January 18 through Saturday, March 16, 2013, Exhibit is open Monday-Saturday, 10:00 am – 5:00 pm
Cost: FREE for members of the Oregon State Hospital Museum when they show their membership card. WHC regular admission is $6 for adults, $5 for seniors.
What do you know about the lives of children who lived in the Willamette Valley in the past? What kinds
of games did they play or chores did they have to do? How did their lives and pastimes compare to yours?
What did it even mean to be a "child"?
The Oregon State Hospital Museum is proud to be one of the participants in When We Were Young,
the Center's third annual Heritage Invitational Exhibition. This display explores a range of ideas
about "childhood," from planting trees after the Tillamook Burn to the role of children in the history of the
Good Samaritan School of Nursing; from toys, dolls and games from a by-gone era to the lives of Albany
teenagers from the late 1800s through the 1940s.
Besides the Oregon State Hospital Museum, other participants for When We Were Young include: Albany
Regional Museum, the Bush House, Chemawa Indian School, Historic Deepwood Estate, Forest History
Center, Hoover-Minthorn House, the Jensen Arctic Museum, Linfield College Archives, Lord & Schryver
Conservancy, Polk County Historical Society, Silverton Country Historical
Society, St. Boniface Museum and Archives, and Western Oregon University Archives.
For more information, please contact or Keni Sturgeon, 503 585-7012 or email.